Children's Ministry
Children's Ministry
Children's Ministry
Children's Ministry
Jesus loves children and we do too! Our goal is to communicate God's love to children in safe and fun environments. On Sundays during our gathering, we have different opportunities available for various ages. Our programs for kids are led by gifted and dedicated team of volunteers and staff who invest in our children.
During the first part of our celebration on Sundays, children gather in a larger group setting for songs and the lesson. They are then released to go with their teachers to their classrooms, where they will continue to learn the bible lesson through crafts, games and other activities. Parents/guardians can pick up their children after the celebration service or learning communities.
* A nursery room is available for newborns to toddlers (birth—2 years), where a parent/guardian can supervise. Live video feed of the service is available.
* Children over the age of 11 are encouraged to be in the service or help as teacher' assistance in the younger age classes.
News
---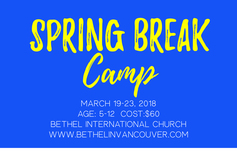 What will happen at Day Camp? Don't miss out on this week of fun filled adventure for your child.  Every day will have something different and exciting to help build up your child, both physically and... Read More