21 DAYS OF PRAYER
21 DAYS OF PRAYER
January 12, 2018

Jenn Hildebrand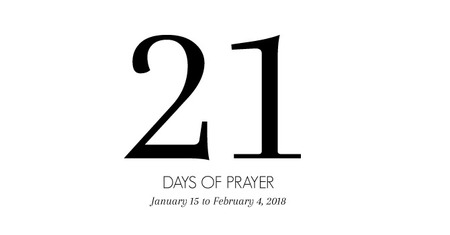 As we begin 2018, we are inviting the church to a 21 day prayer focus. We believe this season of prayer will set the tone for the rest of the year as we seek God's will for our lives, the church, and beyond.
From Monday to Friday the church will be open from 6:30am-7:30am to come and pray. Each morning the prayer time will be facilitated by one of our leaders and will include a short time of praise and worship and a scriptural exhortation followed by corporate prayer. The remainder of the time people will have the freedom to seek God as individuals and also receive prayer.
Saturdays you may pray from your home, and Sundays you are welcome to come to our pre-service prayer from 9:15am to 9:45am.
Even if you are not able to come for the morning prayer, you are invited to follow the 21 day prayer guide, which you can pick up from the info table or download a digital copy below. May the Lord hear our prayers and transform many lives this year!
Available Files to Download
To download, right-click the file and select "Save link as".