All The Days Of My Life - November Message Series
All The Days Of My Life - November Message Series
November 2, 2017

Jenn Hildebrand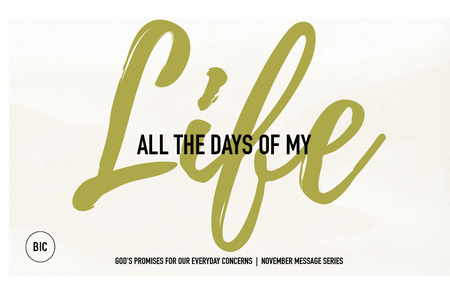 All The Days Of My Life (November Series)
What are the concerns you seem to face almost every day?
Life is not always about figuring out the big questions, is it? More often, it includes addressing common, recurring, everyday concerns: How will I be able to pay the bills? How should I address the current dilemma I am facing? Will everything really turn out okay? Does God care? Will he accept me if I…?
Amidst our everyday hopes and burdens, we have reassuring words from the Psalms of Scripture which call us to a confident trust in God: "surely goodness and mercy will follow me all the days of my life…" (Psalms 23:6). More than a sentimental phrase, we see a confident assertion that God not only cares about us, but that his goodness follows us all our days as we are willing to trust and follow him.
Join us this November on Sundays at 10am as set out to address how God's promises affect our everyday concerns in the message series "All the Days of My Life".