Spring Break Day Camp
Spring Break Day Camp
February 13, 2018

Jenn Hildebrand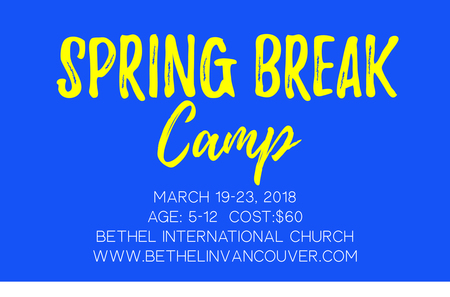 What will happen at Day Camp? Don't miss out on this week of fun filled adventure for your child. Every day will have something different and exciting to help build up your child, both physically and spiritually. During the morning there will be planned activities for your child to learn about God through exciting stories, crafts and games. After lunch, there will be planned outdoor activities such as swimming, sports dayand lots more. It'll be lots of fun.
What will my child (ren) need to bring? Please ensure that your child will bring a packed lunch, a water bottle, and sunscreen.
How much does it cost? $60 for the whole week. This covers supplies for the activities and a t-shirt
Who is organizing the day camp? Day Camp 2018 is a cooperative effort between two churches in the community: Bethel International church and JRAM. Our day camp team is made up of volunteers from each of the churches who have all been trained for this program and is in compliance with "Plan to Protect", our child protection policy. If you have any questions please contact Krystle at 778-990-8694 or at [email protected]
Available Files to Download
To download, right-click the file and select "Save link as".
Get Connected Children's Ministry